The Nordic Ecumenical Network on Freedom of Religion or Belief
A network of practitioners working with FORB issues
NORFORB is the network behind the Freedom of Religion or Belief Learning Platform.
NORFORB is a network of ecumenical, church or church-related organisations in the Nordic Countries who work with freedom of religion or belief (FORB) as a human right for all. The network developed organically from 2014, as staff members working with advocacy and with capacity building on FORB issues sought to learn from one another and find synergies between their areas of work. In 2016, eleven organisations decided to form the NORFORB network, which has since grown to include 14 members.
2017-2018 was a formative period for the network, during which time NORFORB became a spring board for joint project applications and the development of a joint online learning platform, the FORB Learning Platform. Through this platform a broad network of collaboration has developed between the NORFORB network and faith communities, faith-based and secular human rights organisations, development organisations and educational bodies across the globe.
The FORB Learning Platform project is run by three NORFORB members working in a formalised consortium: Stefanus Alliance International, SMC Faith in Development and the Center for Church Based Development.
NORFORB meeting in Stockholm, November 2021.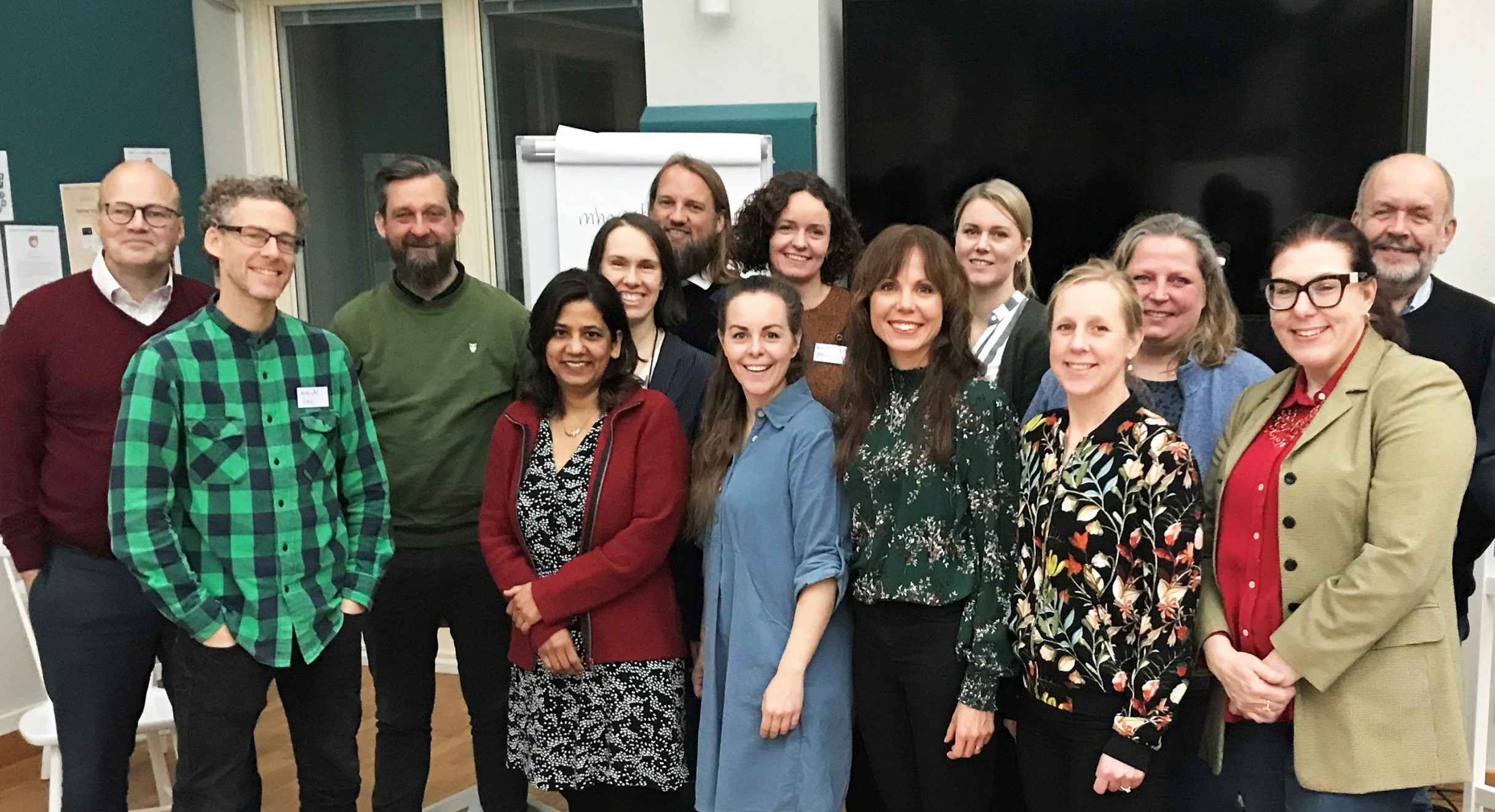 Founding principles
Collaboration in the network takes place on the basis of a shared understanding of FORB as a human right for all as stated in Universal Declaration of Human Rights, Article. 18, the International Covenant on Civil and Political Rights, Article18 and the European Convention on Human Rights, Article 9.
The network seeks to be open, practical and solution-driven, with collaboration based on shared values, aims and ways of working and in which there is freedom for the members (or groups of members) to explore, develop and implement initiatives organically.
Network activities focus primarily on freedom of religion or belief in countries with serious violations of the right, rather than FORB issues in the Nordic area. This applies not least to support to partner organisations. There are, however, areas of overlap which relate to both domestic and international agendas that are discussed within the network and learning resources produced by the FORB Learning Platform are relevant and regularly used by actors in the Nordic area to promote rights for all.
Aim & objectives
The overall aim of the network is to maximize the efficacy and efficiency of the participating organisations' work on FORB for all by making the most of potential synergy effects between the work of the participating organisations. In this way, the contribution of the network and its members to building a culture of freedom of religion or belief for all will be strengthened.
Drawing from its theory of change the NORFORB network has the following strategic objectives:
Sharing, exchanging, inspiring new ideas and innovative approaches
Joint learning on best practices
Complementarity and collaboration to strengthen synergy effects and thereby boost the effectiveness of the member organisations' FORB work
Joining a faith based identity and approach with a human rights based approach towards FORB.
These objectives guide the network's engagement and cooperation.
Theory of change
Cooperation within the NORFORB network is based on the assumption that FORB as a human right is essential for building any free, democratic and peaceful society. Thus there is a need to foster a social, political and legal 'culture' of freedom of religion or belief, in which equal rights for all are accepted and respected despite deep differences in people's beliefs.
In order for FORB for all to be realized, rights holders and duty bearers need to be made aware of the contents of the right as well as the negative impact of violations, especially in a world where FORB and religious identities are increasingly politicized. Joint learning and collaboration in the network inspire efficient, relevant and innovative approaches towards the realization of FORB as a human right for all.
Based on this the network's theory of change stands on four pillars:
NORFORB members
Subscribe to the FORB Learning Platform's newsletter
Subscribe